Colds, rhinitis, nasopharyngitis
GRIMBERG, a market leader in nasal spray for the treatment of colds
A classic winter illness, nasopharyngitis, also known as rhinitis or the common cold, can occur up to 8 times a year in an individual. Inflammation of the nose and throat, this benign viral condition is very common in babies and children and can also affect adults. The symptoms are a runny nose that may last for a few days, as well as other possible symptoms.



Nasopharyngitis, a viral disease
Nasopharyngitis is a viral disease characterised by inflammation of the mucous membranes of the nasal cavity and pharynx, located at the back of the nasal cavity.
Nasopharyngitis frequency is related to age. With 6 to 8 episodes per year, nasopharyngitis is very common in children under 7 years of age. It can also affect adults with up to 4 episodes per year (4).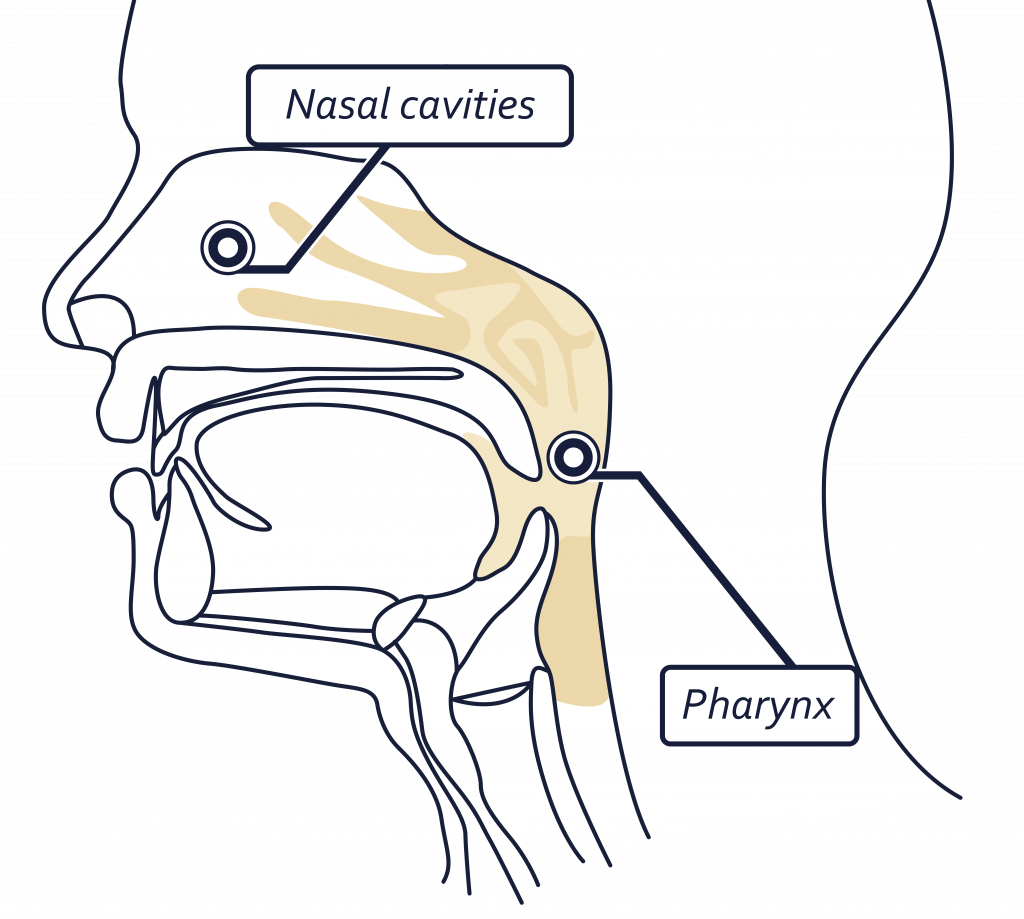 Nasopharyngitis is the most common ENT infection in young children and accounts for over 10 million patient consultations per year in France(5). Its repercussions on quality of life are by no means negligible: disturbed sleep, reduced social activities, absenteeism, etc,.
What are the symptoms of nasopharyngitis(4) ?
The first symptoms affect the general condition of the person, who may feel slightly fatigued and have chills.
Sneezing, nasal obstruction (a blocked nose) and rhinorrhea (runny nose) soon follow. The fluid that flows out is translucent at first and gradually becomes thicker after a few days. A cough may occur, especially in children. There is usually little or no fever.
Nasopharyngitis is a benign condition with a favourable outcome. However, its intensity and duration vary from person to person. It can develop over a period of 5 to 20 days. If not correctly treated nasopharyngitis can sometimes be a source of complications and develop into otitis, bronchitis or sinusitis.
What are the main causes of nasopharyngitis(6) ?
The main causes of nasopharyngitis are viruses: there are over 200 viruses that can cause nasopharyngitis. The most common are rhinovirus, influenzae and coronavirus.
Nasopharyngitis is most common in autumn and winter, but can occur at other times of the year when the weather is bad.
A temporary drop in immunity
Gastroesophageal reflux disease
Passive smoking and air pollution can reduce the mobility of the vibrating cilia found on the respiratory mucosa and whose role is to evacuate secretions from the nasal cavities, encouraging the multiplication of viruses and therefore the appearance of nasopharyngitis.