Otitis involves a more or less acute pain in the ear. Depending on its location, there are several types of otitis. It can be internal, serous or external. Otitis externa is the most frequent cause of ENT consultations worldwide (1). It affects the external auditory canal and is characterised by intense pain at the entrance to the ear. Various factors can contribute to this type of ear infection.
The outer ear, one of three parts of the organ
The ear consists of three main parts: the outer ear, the middle ear and the inner ear.  The outer ear, which is the visible part of the ear, consists of the pinna, the external auditory canal and the eardrum. Its role is to collect, amplify and transmit sound in the form of vibrations to the middle ear.
The external ear canal contains glands that produce earwax. Earwax is an acidic secretion that plays a protective role against bacterial growth.  It also acts as a trap for foreign bodies, such as bacteria or dust that may enter the ear. Excessive moisture in the ear weakens the skin in the ear canal and dissolves the protective wax so that the ear is exposed to germs.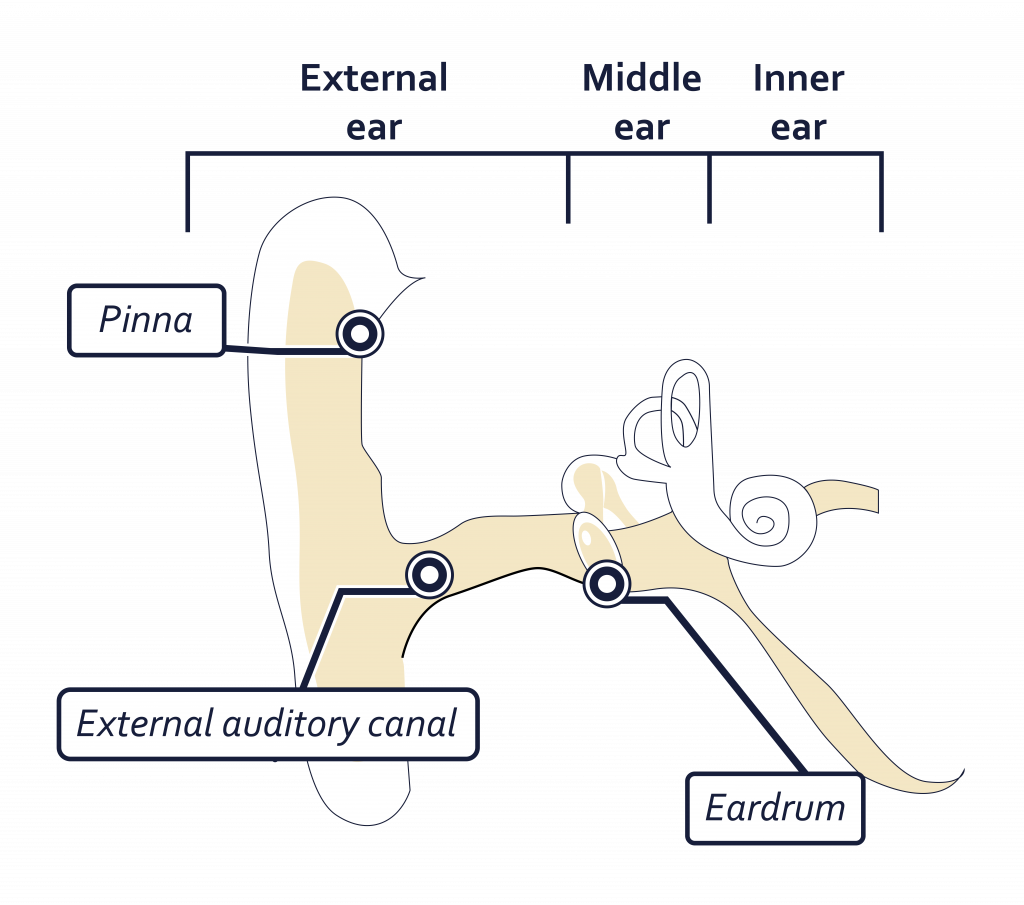 Otitis externa: an inflammation of the external ear canal


Otitis externa, also known as "swimmer's ear", is an acute inflammation of the ear and more specifically of the external auditory canal skin (the area between the pinna and the eardrum).
It is caused by a bacterial (due to bacteria) and/or mycotic (due to fungi) infection.
What are the symptoms of otitis externa?
The first symptoms of otitis externa are a feeling of fullness in the ear (blocked ear sensation) and itching in the ear canal. This is followed by an intense, stabbing pain in the ear. Otitis externa can also lead to a discharge from the ear or a swelling or reddening of the external canal.
After four weeks of illness or if there are more than four episodes of otitis externa in a year, it can be considered chronic.
What germs are involved?
Otitis externa is most often caused by bacteria, such as Pseudomonas aeruginosa, Proteus vulgaris, Staphylococcus aureus…
Fungal otitis externa, usually caused by Aspergillus niger or Candida albicans, is less common.
What factors contribute to otitis externa?
The skin of the external auditory canal can be damaged by many factors, these can be behavioural, environmental or disease-related. These trauma can then favour the occurrence of otitis externa.
Behavioural and environmental predisposing factors include:
Accidental canal injuries caused by cleaning with cotton buds or other objects
The use of irritating products, such as certain soaps, hair dyes, etc.
Wearing ill-fitting hearing aids
Bathing or visiting hot, humid areas which can lead to water stagnation in the external ear canal
Otitis externa is also more common in people suffering from dermatological diseases such as psoriasis, eczema or seborrheic dermatitis.