Calcium is the most abundant mineral in the human body. Mainly known for its role in the construction of bones, it also plays a role in many functions essential to the organism. Since this mineral is not manufactured by our body, a regular intake through the diet is necessary. A lack of calcium can have serious consequences. The symptoms vary depending on the patient and the extent of the hypocalcemia.


Calcium: why is it essential to our body?
Calcium is the most abundant mineral in our body and contributes mainly to the formation and solidification of bones and teeth. It is also involved in many essential functions such as blood clotting, muscle contraction, nerve transmission and hormone release.
Calcium acts in synergy with vitamin D. The latter is essential for the proper assimilation of calcium by the body.
Where is calcium found in the body(1) ?
Approximately 99% of the body's calcium is stored in the bones. The remaining 1%, called free calcium, is found inside the cells (especially in the muscle cells) and the blood.
Even though this free calcium represents a very small part of the body's calcium, it plays an essential role in the functioning of cells, nerves and in the contraction of muscles, especially the heart. If there is a lack of this free calcium, the body draws calcium from the bones, leading to bone fragility.
What are the calcium requirements of adults(1) ?
It is essential to ensure permanent and sufficient coverage of calcium requirements at all ages.
In adults, the population nutritional reference (PNR) is 1000 mg for 19-23 year olds and 950 mg for those over 24. These requirements are increased during growth, pregnancy and lactation to ensure proper skeletal development, as well as when physiological bone aging occurs. Immobilization for long periods of time increases calcium loss. A person who is bedridden for long periods of time for medical reasons will need to monitor their calcium levels.
What are the symptoms of calcium deficiency?
In the event of insufficient calcium intake, bones can become fragile and develop osteoporosis. In children, calcium deficiency can lead to bone development problems and skeletal deformity.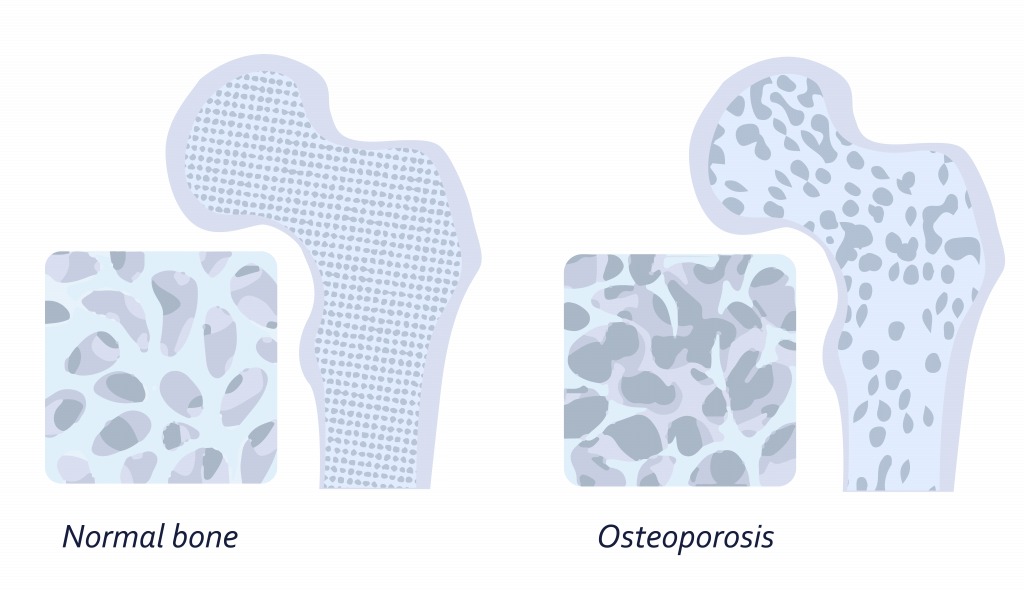 Hypocalcemia (low calcium) causes a variety of symptoms depending on how severe it is and how quickly it occurs.
Low calcium levels over a sustained period of time can lead to muscle cramps, fatigue, dry skin and brittle nails. Over time, neurological symptoms, such as confusion or memory loss, may be observed.
Extremely low calcium levels can cause tingling (in the extremities and around the mouth), muscle pain, spasms in the larynx that can lead to breathing difficulties, tetanus seizures and heart rhythm disturbances.
What are the causes of calcium deficiency?
Hypocalcemia is most often caused by excessive loss of calcium in the urine or when the amount of calcium moving from the bones into the bloodstream is too low.
The main causes of hypocalcemia are :
Parathyroid gland dysfunction
(hypoparathyroidism)
Low magnesium levels
(hypomagnesemia)
Certain diseases:
renal failure or pancreatitis
Certain drugs:
rifampicin, anticonvulsants, bisphosphonates, calcitonin, chloroquine, corticosteroids, plicamycin…
What are the dietary sources of calcium?
The symptoms of hypocalcemia disappear if the calcium level is restored.
Calcium is a mineral found in a large number of foods. A varied and balanced diet should ensure an adequate intake. Calcium is mainly found in dairy products but also in other plant sources. Fruit (oranges, figs, apricots), dried fruit (almonds, figs), vegetables (broccoli, onions, spinach), legumes (lentils, chickpeas, soybeans) and oily fish are all good sources of calcium.